By and large, the DJ gear that someone has doesn't effect how "good" or "real" of a DJ they are but for DJs that play hundreds of shows in a year, gear can have a big impact on their ability to performan reliably and sometimes creatively.  If someone is willing to bank their living on a set of kit, then there is a good chance it might be good enough for you – so we've put together a collection of the gear used by some of the world's favorite DJs and live producers.
Finding Out What Gear They Use
It takes a little bit of digging to find out what a DJ really uses in their live setup – and we've done our best to make sure that this article is as accurate as possible. Combing YouTube, interviews, and gig photos to cross reference various sources, we've managed to get a pretty confident idea of what most folks are using on stage.
Note that many artists are constantly trying new things (or in some cases, being sponsored to rock a new piece of gear) so the gear listed in this article shouldn't be treated as permanent fact.
"Top 100 Most Popular" DJs: The CDJ Mafia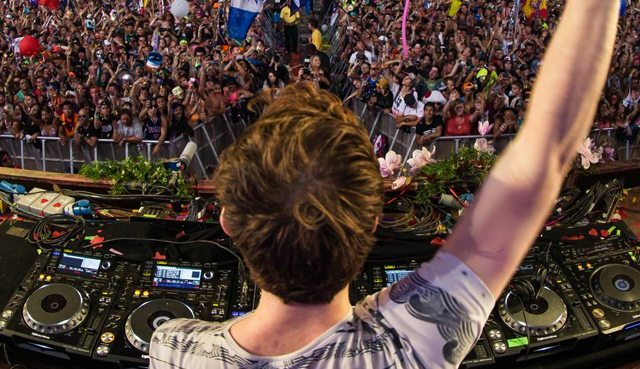 When we first tackled this project, the team found that most of the DJs who flood lists like the DJ Mag Top 100 are using identical sets of gear, which the only significant variation being headphones.
Here's the "standard" set of gear used by venue-packing professional's Hardwell, Avicii, Tiësto, David Guetta, Dimitri Vegas & Like Mike, Nicky Romero, Skrillex, Afrojack, Dash Berlin, Alesso, Calvin Harris, Nervo, Above & Beyond, Sebastian Ingrosso, Eats Everything, Claude Vonstroke, and many others:
Nearly 70% of the "Top 100 DJs" use that exact set of gear without alteration. The reason why is clear,  this standardization makes it easy to get the gear they're used to at festivals, and turns almost any dj booth into a "walk up and play" scenario. In general, this vastly simplifies the changeover logistics in DJ booths.
The interesting story with superstar DJs is in the headphone world – where individual preferences, interests, and perhaps artist relations efforts all start to show up. Here's a basic breakdown of the the top 20 DJs from both the DJ Mag and Resident Advisor's lists in terms of headphones preference:
Sennheiser HD 25-1 IIs (Aly & Fila, Calvin Harris, Afrojack, Hardwell, Above & Beyond, Ben Klock, Seth Troxler, Maceo Plex, Ricardo Villalobos, Loco Dice, Ben UFO, Eats Everything)
V-Moda Crossfade M-100s (Avicii, Dash Berlin, W&W)
Urbanears Zinken (Sebastian Ingrosso, Axwell, Alesso)
Phillips A5-Pro (Armin Van Buuren)
AKG 267s (Tiësto)
Beats By Dre Mixr including custom colors (David Guetta, Dimitri Vegas & Like Mike, Nicky Romero, Skrillex)
Sol Republic Tracks HD (Steve Aoki)
Pioneer HDJ-2000 (Nervo)
THE INTERESTING BIT: UNIQUE DJ GEAR + SETUPS
So besides the CDJ Mafia, who among the most popular and influential DJs in the world are using unique gear setups that aren't carbon copies of eachother? Here's a selection of 13 of the most interesting ones:
Zedd Representing All-In-One Controllers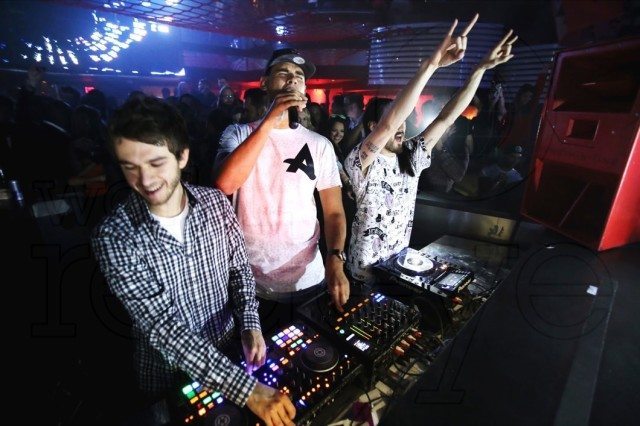 Zedd is one of a select group of touring DJs who use an all-in-one DJ controller as their performance rig. He's moved to the MK2 model this year – maybe we'll see him switch to a Kontrol S8?
Headphones: Beats By Dre Mixr
Mixer: N/A – running into house mixer
Controllers/Decks: Traktor Kontrol S4 MK2
Other: We'll be interested to see if Zedd's recently reported case of sudden hearing loss in one ear changes his choice of headphones – perhaps in-ear monitors might be the way to go?
Armin Van Buuren's Augmented CDJ Setup
Armin has been DJing for decades – and while it's no surprise that he's rocking a set of CDJs, he has a fascinating trick for visuals that allows him to mix live and still have the intense timed visuals that so many festival-goers fawn over. He explains it well in the video above.
Headphones: Phillips A5-Pro
Mixer: Pioneer DJM-900
Controllers/Decks: 4 Pioneer CDJ-2000 Nexus' with USB key
Other: 2 of Armin's CDJ's actually send

SMPTE

 signal that triggers video in the VJ software at the front of house. He also uses a chat program on his laptop onstage to chat with his VJ and tell them what track he's about to play. More details in the video above.
Flosstradamus' DJ Setup (With Midi Fighter 3D!)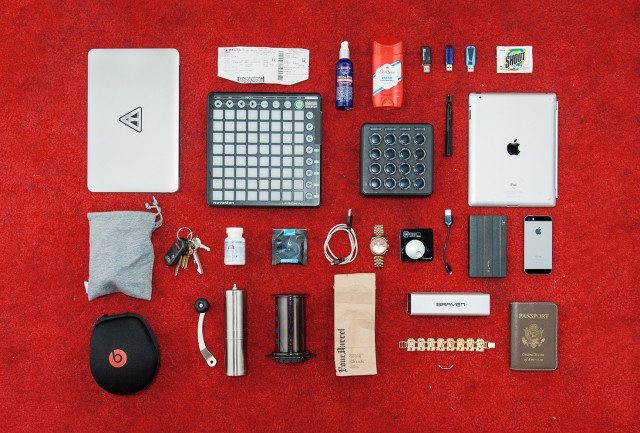 The remix masters-turned-trap-gods Flosstradamus have an awesome live show that incorporates DJing in Ableton, and a ton of live triggering of samples, drums, and effects.
Deadmau5's Live Producer Setup
Joel Zimmerman quite often argues that he's nothing like the rest of the entrants in the top 100 in that his sets often diverge from traditional "DJing" entirely. We don't disagree – his setup constantly seems under flux. The photo above shows the length to which he's willing to take "live production" – with a full set of modular synthesizers, a mixing desk, a Virus TI synthesizer, and a Kontrol X1 (but this was all the way back in 2011). Recently we've seen him using something a bit more odd – a new Microsoft Perspective Pixel device. Watch a quick clip of it in action below, or read more here.
Richie Hawtin's Traktor + Push DJ Setup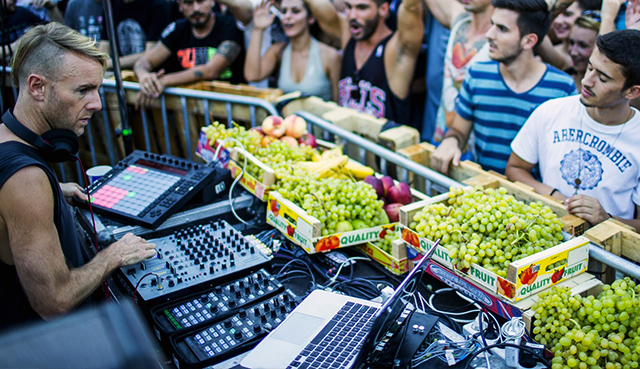 Richie has his setup very much dialed – with a Traktor Pro base setup that is linked into Ableton Live (synced MIDI clock) to allow him to do live looping, sequencing, and clip triggering all over top of the playing decks. If this sounds familiar, you might remember a very similar setup that Dubfire uses in his setup – watch our complete How I Play interview with him here.
Mixer: Allen & Heath Xone:92
Controllers: Kontrol X1 MK1 (2x), Ableton Push,
Soundcard: RME Fireface UFX soundcard
Headphones: Variable – he's been spotted using AIAIAI TMA-1 Studios and Pioneer HDJ-2000s in the last year
Other: Grapes. Every DJ setup needs more fruit.
Maceo Plex's External Effects Ensemble
Maceo's Plex's deep sounds are complimented by an interesting array of external effects units – to the point that the above Boiler Room set from mid-2013 only tells half of the picture. While it seems like he used to do more of a "live" show (Ableton, Akai MPK keyboard, Kontrol F1 and iPad), he's since moved on to a more traditional CDJ-oriented setup – but with some fascinating effects units in tow:
Mixer: Allen & Heath Xone:92 or DJM-900 Nexus
Decks: CDJ-2000 Nexus
Effects Units:  Boss delay pedals (2x), RMX-1000 (2x sometimes – likely one for each deck to avoid needing to send/return signal)
Headphones: HD 25-1 IIs
Tale Of Us' Traktor Decks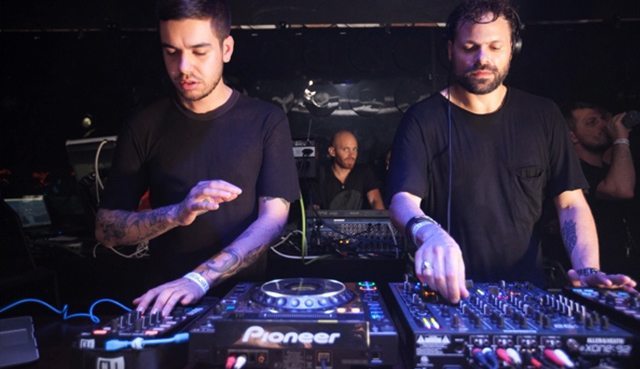 This duo based out of Berlin have done very well for themselves, putting together fantastic dark techno landscapes in their DJ sets. They take a more hybrid approach to DJing, incorporating Traktor Control Vinyl into their booth rig.
Mixer: Allen & Heath Xone:92
Decks: Traktor Control Vinyl (or occasionally, as pictured) CDJ-2000 Nexus
Controllers: Kontrol X1 MK1s (2x)
Headphones: HD 25-1 IIs
Other: These guys seem to have copped their own set of DJTT Chroma Cables – note the bright blue cable running the the X1 in the bottom left of the picture.
Andy C: Reliability Is Key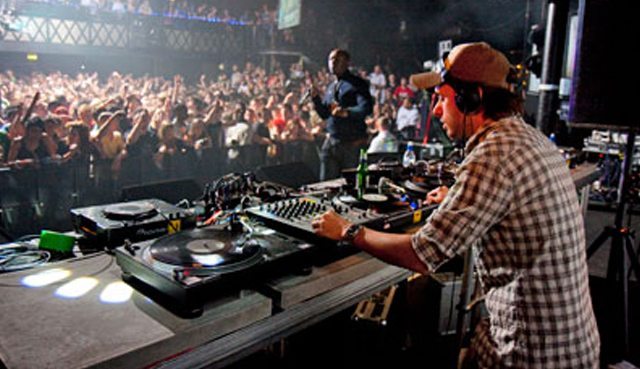 Andy C is one of the biggest pioneering DJs in the drum and bass scene – not because of his embrace of any new fancy technology, but rather for his copious excellent mixes that he's put out over the years. As it turns out, his rider reflects his commitment to quality (thanks to DJTT reader Sam Chop on Facebook for the tipoff)
Mixer: Allen & Heath Xone:92
Decks: 3 "immaculately maintained" Technics 1200s/1210s
Headphones: HD 25-1 IIs
Other: Concrete slabs under all of the decks and mixer to maintain isolation and stability on the turntables – this is especially key when playing at festivals with booths that aren't designed to absorb all of the bass frequencies of the house system.
Flying Lotus' Simple Ableton Rig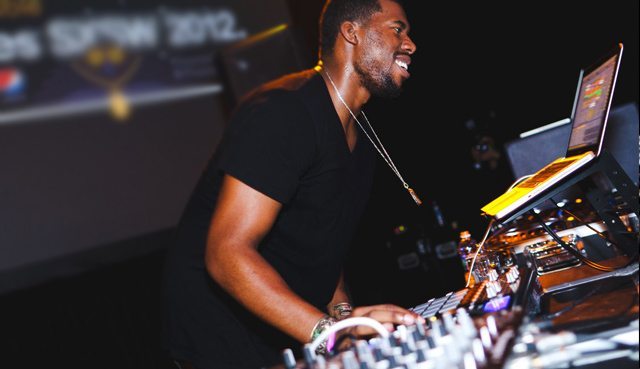 The mastermind behind the Brainfeeder label has kept his live rig super-simple, instead preferring to work with visual artists to make a powerful live show (dubbed Layer 3 – watch below for more details).
Mixer:  N/A, uses house mixer with an 1/8″ to RCA cable straight out of his laptop's soundcard
Controllers: Akai MPD 32
Software: Ableton Live
Paul Van Dyk's Production Palette
Similar to other live producer DJ shows, Paul brings out a massive amount of gear to make his setup perfect- watch his performance (video above) at Creamfields from earlier this year to get a few quick shots of his rig.
Mixer: Allen & Heath Xone:DX
Controllers: Akai APC 20, M-Audio AxiomPro 25 keyboard (2x), Vestax VCM-600,
Headphones: Sony MDR V6 / 7506
Other: PvD has two laptops on stage – likely one for performing live elements and the other for mixing audio and clips – they're both running Ableton Live.
Pretty Lights's DJ Rig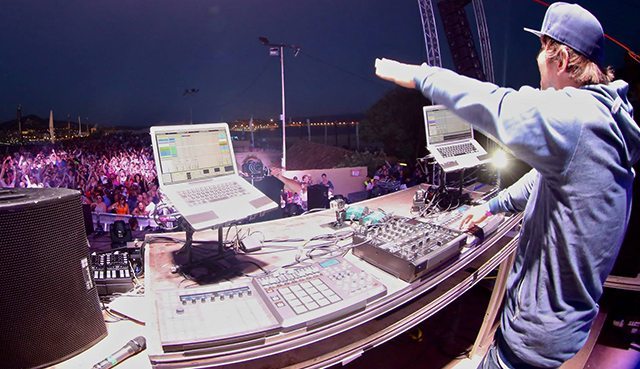 Glitch-hop stylings from Colorado-based Pretty Lights have become a staple of any number of outdoor festivals around the world – and the gear that controls his live performances comes in the form of a mirrored setup with two laptops both running Ableton Live. His live band setup is even more extensive, incorporating a MPC, live synthesizers, and much more.
Mixer: Pioneer DJM-900 Nexus
Headphones: Unknown in-ear monitors
Controllers: Akai MPD 32 (2x), Maschine Mikro MK2 (2x)
Porter Robinson's New Live Worlds Show
You might remember that Porter's rise to fame was accompanied by learning to DJ shows with a Traktor Kontrol S4. In the last year, he's moved to a much more exciting live show that moves away aggressive electrohouse and towards ethereal original tracks that he's been performing live. Here's what his live rig is made up of:
Controllers + Samplers: Livid Ohm (as four channel mixer), Roland SPD-SX (for drum samples and synth stabs), Akai sampler keybaord
Synth: Roland System 1
Bassnectar's Custom MIDI Controllers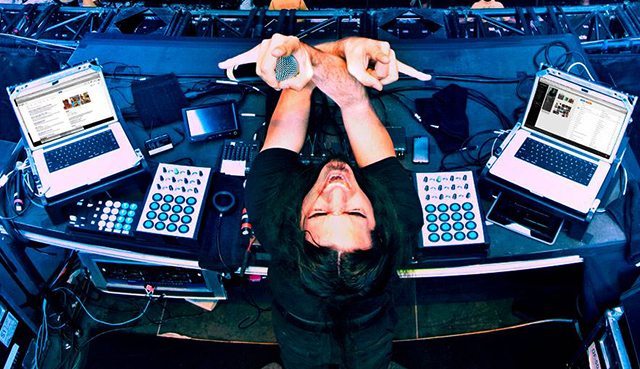 Bassnectar has a mega-arcade button focused controllerism setup to control dual Ableton Live laptops – if you want to know the full story behind the 60 Works/Livid controllers, check out the complete explanation in this article on controllers that never quite made it to market.
Mixer: Pioneer DJM-900
Controllers: Custom 60 Works/Livid controllers (based on DJTT design), Midi Fighter Pro Cue Master
Help contribute to this article – list DJs in this format in the comments and include photo or video proof and we'll add the most interesting and insightful comments to the article! 
We've got a bunch of great videos highlighting more original DJ rigs – watch any of the below for more inspiration: 
Dean Zulueta also contributed to this article with some excellent research.