Five must-read books for making your own DIY production + DJ gear
The pandemic left me pretty broke and bored. I'm always on the lookout for new gear, but I rarely have the money to spend on it. Plus, lately a lot of us don't have gigs to show that gear off either. Throughout lockdown, one of the ways I kept myself busy and creative is by learning about how my stuff works – and that pretty naturally led to learning how to build it myself.
I started digging through the array of books that are out there that cover building, making, and tinkering with your own gear. There are tons out there, but we've chosen a few of our absolute top picks.
Why DIY?
The books listed here focus on making tried and true analog devices. Mixers, microphones, preamps, pedals, effects boxes, and even small speakers are all well within the realm of DIY possibility for the average DJTT reader, but none of these books are going to teach you how to make your own digital gear, like controllers or samplers.
Don't lose hope, though. Making your own gear is a gateway drug, so it won't be long before you develop the skills needed to make increasingly complex electronics. And even then, simple analog effects can open up a whole new universe of possible sounds. If you're getting tired of preloaded sound packs or sample playlists on YouTube, a great way to refresh your creative juices is by synthesizing a kick or snare yourself.
So, the next time you cringe at ever-rising gear prices, consider making your next gadget on your own. It takes more time, but it'll save you a ton of money. Plus, it's pretty cool to tell curious fans that the setup they danced to all night is one-of-a-kind.
The review process
For each of these five titles, I've laid out three factors to consider. They're like the tl;dr of each short review.
First is price, because I'm cheap, in case you didn't gather that from my love of making my own equipment.
Second is "accessibility"; this category is on a scale from one to ten, one meaning that the book is out of my league, ten meaning that the book explains it to me like I'm five.
The final category is "practicality," my way of judging how actually do-able each project in the book is. A more practical book will demand that you purchase fewer tools, easier to find parts, and have instructions for easier projects. Practicality is also on a scale of one to ten, one being the least practical and ten meaning that the book teaches you how to whip up a piece of gear in very little time, with very little cash.
Let's dive in.
#1: Craig Anderton, Electronic Projects for Musicians
This book is centered around a list of 27 different possible projects, with step-by-step instructions for each. Anderton provides a lot of introductory material and a detailed list of tools and how to take care of them, but I think the actual project descriptions are lacking in detail. The images at the start of each project show what look like professionally built gear, but the projects only cover how to build circuitry. Plus, in order to build electronics from scratch, you have to buy a lot more material.
There is what would be a really helpful chapter on where to find electronic components and how much they cost – if the most recent edition of this book hadn't come out in 1980. The list of equipment vendors is for mail-in-order companies, and even includes RadioShack (R.I.P.). Thankfully, all of the components and tools you would need for these projects are easy to find on Amazon now – just not at the 1980s price points listed.
#2: Paul Scherz, Practical Electronics for Inventors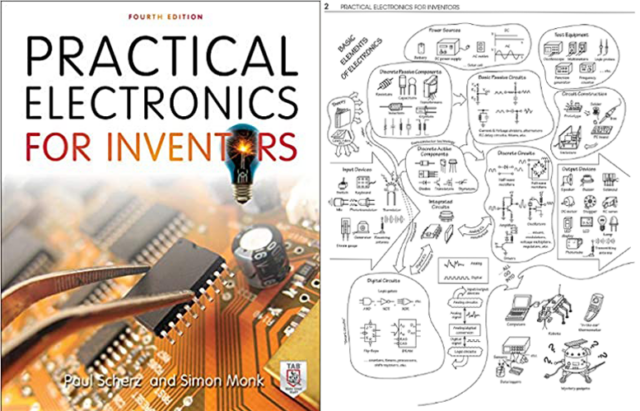 Don't be fooled by Scherz's title – this book isn't just for the Thomas Edisons of the world. It will spend quite a few pages teaching you all of the background information on electronics that the other four books listed won't, but it still sports a chapter dedicated specifically to audio electronics. I recommend this book to the beginners who tend to get obsessed when they start a new hobby. Scherz isn't writing for the "I think it might be fun to build a guitar pedal" people of the world; rather, he's writing for those of us that like to let our hobbies take over our entire personalities.
This book has all of the answers to your questions about how your gear works, getting down to the physics of electricity. It also includes a chapter on the basics of digital electronics, although it's not aimed specifically at digital audio. The downside of the book's thoroughness is that reading through it all is a hefty commitment, and you really have to have read through the introductory chapters on electricity in order to understand its detailed descriptions of how things work.
Lastly, keep in mind that this book doesn't outline projects, or describe step-by-step how to build gear. It teaches you how your stuff produces and manipulates sound. If you go into it with that in mind, it's an indispensable resource for the aspiring audiophilic gearhead.
#3: Simon Monk, Hacking Electronics: An Illustrated DIY Guide for Makers and Hobbyists
I don't use this phrase lightly, but I think this book is too short. Although it's illustrated with a ton of high-definition photos, its step-by-step descriptions are not as idiot-friendly as Collins, Nelson, or Anderton. I would recommend investing in this book if you already have a basic knowledge of the inner workings of electronics.
That said, the projects listed in this book are practical and feature much more up-to-date components, like USB ports, arduino microcontrollers, LEDs, and sensors. You'll learn how your electronics work from this book alongside how to make them do what you want. It also teaches you how to manipulate software just enough to control arduino components, with no prior programming experience necessary.
#4: David Erik Nelson, Junkyard Jam Band: DIY Musical Instruments and Noisemakers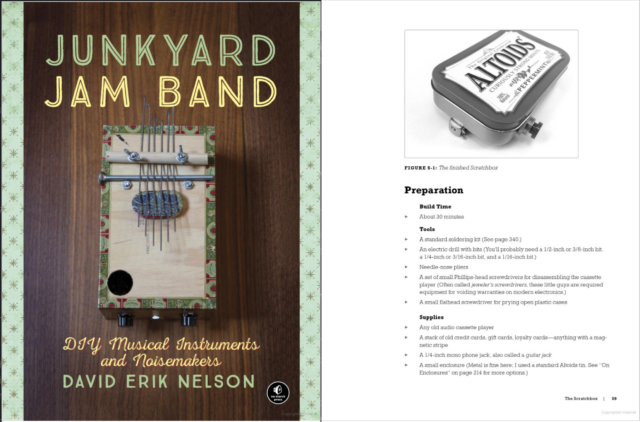 I love this book; it's written in an easy-to-read format and includes projects for making both acoustic and electronic instruments at home. It's only downside, really, is that the names for each project are kind of cheesy ("The Single-Chip Space Invader Synth?" – really?).
Nelson's book has extremely thorough descriptions for each project, including troubleshooting and ideas for creative music-making. It's tools and equipment chapter is also far more up-to-date than Anderton's version from the 1980s. It doesn't include anything about digital electronics, though. Instead, it has a short appendix about music theory, which I find a lot less useful than any of the hundreds of YouTube tutorials covering the same subject matter.
This book can teach you how to make your own pickups, small amps, preamps, effects pedals, a synthesizer, and even a sequencer. The sequencer project is particularly fun and useful, but I would recommend the Collins if you're looking to make yourself a mixer.
#5: Nicolas Collins, Handmade Electronic Music: The Art of Hardware Hacking
Easily my personal favorite of the five books listed, Handmade Electronic Music isn't on very many DJs and producers' radars – but it should be. Not only are the simple projects in this book easy and cheap to execute, but they produce wild, fun sounds. Have you ever wanted to sample the sound of an old toy, a cheap Yamaha electric piano, or the 'ding' of a kitchen appliance? You could set up a microphone, or you could use this book to learn how to manipulate that sound, control it, and turn it into a musical instrument of its own that could be used live, played in real time.
Most of the stuff you need for these projects can be found in thrift stores. The beauty of hacking hardware instead of making it from scratch is that your components are already there in the original object.
In my experience, the only people who know this book exists (and by chance the sort of person who recommended it to me for the first time) are electronic music people that call themselves avant-garde electronic music composers. But the projects in this book (including but not limited to microphones, speakers, synthesizer components, amplifiers, radio transmitters, hacking video, and hacking code) will take your DJ or producer game to the next level. And they're fun. If you're feeling rusty and unsure about getting back into the game post-pandemic, this book will inspire you to try out new, crazy sounds.
The last word: Make your sound your sound.
I get kind of sad when I think about what the need for user-friendliness might mean for the development of technology. With electronics, and especially music electronics, it can turn instruments into mysterious black boxes that lead us into creative dead-ends. Making my own sound effects, both analogue and digital, has opened up a new universe of possibilities and saved me from drowning in a sea of YouTube sampling playlists.
At the very least, I hope all the time I spent looking for a decent book on how electronic music gear works can make it easier for more DJs and producers to start making and hacking their own gear. Get out there and get soldering!
Now the question is – which book will you start with? Which do you find most intriguing? Let us know!