Step up your production/DJ game with Roland's SP-404A: sampling, loop importing, + more
Roland first released the iconic SP-404 in 2005 – then in 2009 as the SP-404SX, and again in 2017 as the SP-404A. The fourth and last release came from Roland in 2021, which came with the introduction of the MK2 version of the sampler. This SP-404 is the ultimate tool for samples, and the current king of the lo-fi scene (though worth noting: every version of the SP-404 can be a very viable sampler and an incredible effects tool).
The sampler has gained more popularity as of late due to its portability and battery power. The price point is attractive as well, as used units can be found for a few hundred dollars. It offers limitless creativity in a portable package, and its storage can be expanded to 64 GB and beyond in some models.
There's an array of creative ways you can use these samplers in both DJ and production setups (you can check out Roland's explorable site of features here). With the 404 at your disposal, the key features and capabilities we'd recommend exploring include:
Sample anytime, anywhere with the built-in mic and battery power
29 DSP effects, including filter, delay, unique voice effects, subsonic, and looper
3 control knobs, 12 trigger pads, and Sub Pad for rapid repeat triggering
Seamless effects switching for smooth, perfect performance
Pattern sequencer with quantize mode and new shuffle feels
Let's dive into how each of these can be utilized within your production process and DJ sets.
---
For the producer: Sample with ease
There is a wealth of information and tutorials on the internet about this well-loved sampler in all of its iterations. The sampling on this machine is designed to be fast and simple. By using the resample feature, you can unlock an infinite amount of sound design capabilities. A RCA input sits on the back of the machine and a quarter-inch mic/guitar input lives on the front panel opposite the headphone jack.
Just about anything can be sampled with ease. To sample: hit the 'REC' button, pick a pad, then hit the 'REC' button once again.
Since this is a wave sampler, the sample is written directly to a pad slot on the SD card. Even though it lacks a chopshop function like the MPC, samples can be copied and trimmed however you need and as many times as you need.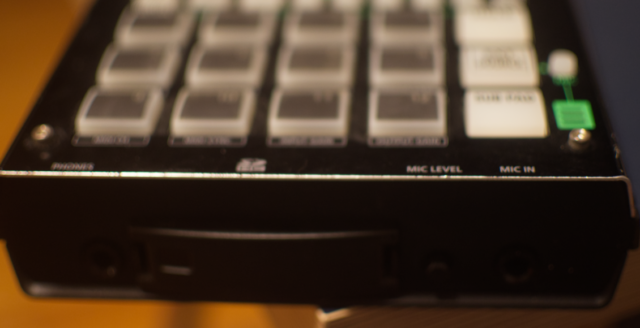 Limits can often breed creativity, and that's where the SP-404's resampling function comes into play. Resampling allows you to pick one of the machine's built in effects and re-record a sound with the effects printed on. Essentially it can do this over and over until you run out of space. This can be extremely useful in sound design and beat creation. Many lofi producers actually use the re-sample method to create looped parts of a beat. In the production environment paired with another sampler like an Akai MPC, you can play sequenced parts of a beat or song and capture them as loops for use in a later set.
Dedicated effects for the DJ
DJs have a few different options to utilize this gear. The SP-404 can be run into an audio channel on your controller or mixer, which will allow you to trigger one-shot samples and loops directly into your set. Most DJ software does this already, but the SP-404 has 10 banks of pads at 12 pads each – that's 120 sounds in total, if you wanted to go that route. The quarter-inch mic input can be used with an effect engaged as well, which could be to make announcements or add a bit of flavor to any talking points.
One of my favorite ways to use the SP-404 with Traktor or Serato is putting it between the controller output and the monitors. This grants me the "master effects", so to speak. Using the DJ effects looper on two simultaneously-playing turntable channels can provide you with some incredibly unique-sounding results. The compressor effect on some cuts sounds particularly good.
---
Left to my own devices: Tips + Tricks
Creative routing
One of the ways I like to use my SP-404 is to route the output of a mixer to its inputs. I can then sample instant loops of songs that I'm currently working on. For example, if you wanted to play a new beat you were working on live, you could sample it and set the pads to loop. This makes your SP-404 a kind of hardware Ableton for loop launching.
The effects work on the last pad triggered or pressed. If you're launching loops in succession or back and forth for different parts of your song, the effects can be applied quickly and used expressively in a live setting. I've used this method in live performances with only the SP-404 hardware, where it acted as an effect box for an Ableton rig running through it. The results are simple, reliable, and sure to please a crowd.
---
Bonus features: sound + loop importing, third party software
Sound and loop importing
The SP-404 can use Roland's wave converter software to import sounds and loops. If you use large sound libraries that sit on a hard drive, this feature is incredibly useful. The software is intuitive and easy to use – all you need to do is drag in the samples to the pads you want them on, then click 'Write to SD card'. Slam that card back into your machine and there they are.
Add-ons: Superpads and Bankrobber
There have been a few third party projects done by independent developers, namely Super Pads and Bankrobber. Both add additional functionality to the idea that was originally present in Roland's wave converter. Bankrobber can edit the start, end and loop points of the samples on pads, and Superpads can allow for the triggering of certain lofi effects before they are loaded into your machine.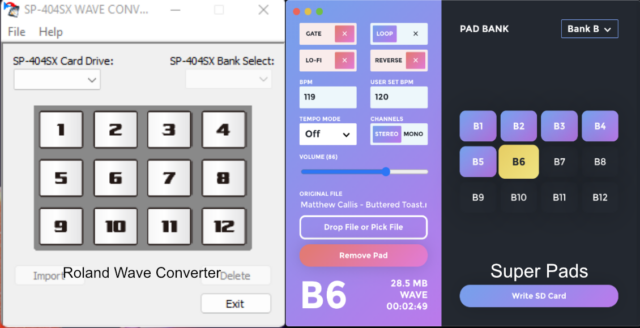 As of now, both are available for OSX and Windows. You can also grab the Roland Wave converter from their site.
---
The last word: play on and get creative – the possibilities are endless.
The Roland SP-404 can be a welcome addition to almost any setup for DJs and producers alike. It sits in my own studio as a go-to sketchpad and loop launcher, and truly breeds creativity as there are infinite ways to create with it. The machine encourages exploration, and in no time you'll find more exciting routes to sonic destinations.
Find the Roland SP-404A in the DJTT shop here for $469.99. If you have one already – how do you use it in your own setup? We'd love to hear it. Any questions about our recommendations above? Give us a shout.