Ableton just made it drastically easier to start and save your track ideas even when you're away from your studio – for Apple users, at least – with the launch of their new iOS app: Note. Built with the intention of offering as a scratch pad for for creators to capture initial project ideas, it's a game changer for artists to kickstart projects on the fly without needing to run to their computer – or jot down ideas any time an idea strikes.
Key features and how it works
The app has 56 of its drum kits, 261 synth sounds and 36 melodic instruments to utilize. You can customize your drafts quite a bit too by layering multiple drum and melody loops and building variations of each, using the Note Repeat feature to repeat your drum loops, tweak any of the parameters, and create your own instruments by recording external audio via the app's Drum Sampler and Melodic Sampler tools.
The app is laid out in Session View, though there's no Arrangement View available (yet).
Once you're done with an idea, you can export your Note Set via Ableton Cloud directly to your desktop and continue the project there.
Community feedback: cool, but what's next?
Since its release yesterday, we've seen a lot of excitement from the Ableton community – with a significant amount of feature and asks for future feature additions. Seeing as this is the first edition of the app, we expect to see updates and changes in the next releases and will be curious to see how much Ableton will take its audience's requests and asks into consideration.
Check out some of the user comments on Ableton's YouTube post – where naturally, some of the biggest complaints are about the lack of an Android app: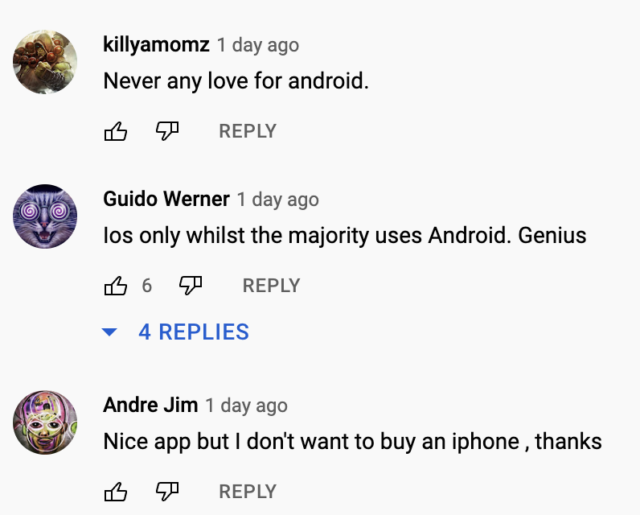 Needless to say, it's a huge move for the platform – but it looks like there's definitely quite a bit of runway to improve in future updates.
You can download Note via Apple's App Store at a one-time purchase price of $5.99, and read more about it on Ableton's website.